Network Wiring in Roxbury, Massachusetts
Need to Install or Repair Network Wiring in Roxbury?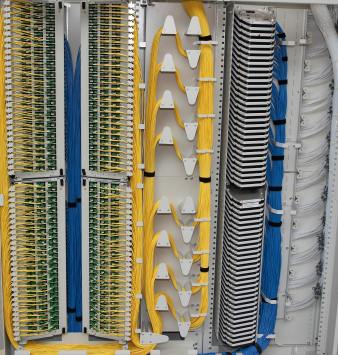 It's essential to find an experienced contractor when planning to install network wiring in Roxbury, Massachusetts. Network systems provide an important service in many homes and businesses, and Wetmore Electric Inc has worked together with clients all across Roxbury on network installation, expansions and connections.
Our trained installers handle every network system with care, from data cables and outlets to television wiring, telephone systems and sound system wiring. Wetmore Electric Inc technicians are highly trained, extremely knowledgeable and fully equipped to handle any type of Roxbury network wiring project. Wetmore Electric Inc also provides network design advice, testing and troubleshooting for complete local support.
Timing is important. And when damage, renovations or expansions crash the network, Roxbury customers rely on the prompt service of Wetmore Electric Inc to bring that system back up. Wetmore Electric Inc has completed countless installations of network wiring in Roxbury, Massachusetts, and continues to offer support for those satisfied local customers.
Invest in professional quality service that won't break the budget. Wetmore Electric Inc offers network wiring in every corner of Roxbury for an affordable rate. From big jobs to small expansions, repairs and installations, the trained staff at Wetmore Electric Inc help you to stay on budget while building a reliable network system.
Plan to hire the pros at Wetmore Electric Inc to handle your network wiring in Roxbury, Massachusetts. With expert technicians and prompt, reliable service, all for an affordable cost, Wetmore Electric Inc continues to build a reputation in the electrical and network wiring industry. Call (978) 595-1465 today to book an estimate on your project.
---
Call for FREE Network Wiring Quote
---
WHAT CUSTOMERS ARE SAYING:
5★★★★★ - "Project: Upgrade an Electrical Panel
Comments: Nice job done by Mike and his crew. Good communication and good work."

Robert D. in Lynn, MA

2019-04-29

5★★★★★ - "Project: Installed electrical switches, outlets, and fixtures. Came the same day, work was done quickly and took away old fixtures. Would recommend."

Jean C. in Salem, MA

2019-04-18

5★★★★★ - "Amazing experience! My Bluetooth lighted mirror looks amazing."

Melissa in Lynn, MA

2019-01-28

5★★★★★ - "On time, friendly, reasonable and would hire again"

Judy K. in Lynnfield, MA

2018-11-29

5★★★★★ - "So impressed with Mike. He communicates, he schedules you as promptly as he can, his prices are reasonable, and he's very personable. I have used his services again since my initial experience with him and I would not hesitate to recommend him to everyone I know! Keep up the good work."

Cindy G. in Danvers, MA

2018-05-31

5★★★★★ - "Mike was amazing. Looking forward to hiring him again if we need more work. Showed up on time and did perfect work. Mike answered all of our questions and we had quite a few. Do yourself a favor and hire Mike(Wetmore Electric, Inc.) you will not be disappointed."

James T in Lynn, MA

2018-04-12

5★★★★★ - "Michael and his team were absolute professionals. My request for an estimate was returned nearly instantly and they were able to look at my property the same day. The price was very reasonable (actually quite less than expected). The team showed up on time, worked very efficiently and took about half the time to complete the job. The quality is spot on. I can't say enough good things about doing business with this company especially with the general poor service provided by their competitors in this area."

Todd M in Salem, MA

2018-03-05

5★★★★★ - "Arrived on time. Performed work quickly. Happy with the results."

Richard B. in Salem, MA

2018-03-05

5★★★★★ - "Excellent experience. Prompt response and communication, work done great. Will use again!"

Lauren M. in Beverly, MA

2018-02-01

5★★★★★ - "Michael was absolutely awesome!! Very professional and prompt. There were some unexpected surprises with the job and he handled it with professionalism. We felt the price for his services was very fair. I would definitely recommend him to anyone!!!"

Michael Harty in Bedford, MA

2018-01-29

5★★★★★ - "Mike was nice to work with, very professional and on time. I will definitely recommend him to friends.."

Woudlinde F. in Lynn, MA

2018-01-24

5★★★★★ - "Prompt,professional and good value!"

Norm K. in Marblehead, MA

2018-01-24

5★★★★★ - "Jennifer R. in Middleton, MA
The gentlemen were on time, polite, and capable. They got the job done in 25 minutes and sought my input where appropriate. I am very satisfied."

Jennifer R. in Middleton, MA

2018-01-08

5★★★★★ - "Project: Upgrade an Electrical Service
Michael was knowledgeable and professional. I would definitely call him for any electrical work to be done in the future. Highly recommended!"

Paul P.

5★★★★★ - "Michael was professional on time and quick to respond. He did a fabulous job and is very knowledgeable. I have used him many times in my home for both large and small jobs and he has always done quality work. Would highly recommend."

Melissa Mahoney in Lynn, MA

5★★★★★ - "What a Wonderful experience, Michael was extremely professional and was always on time and on top of things. I highly recommend him for any and all your electrical needs!"

Katie Hasskarl, The Attic @ Hair Here. in Beverly, MA

5★★★★★ - "Michael arrived on time, he worked with confidence and patience. I would use him again"

Barbara T. in Danvers, MA

5★★★★★ - "Wonderful experience. Added several plugs and a smoke detectors. Very professional and clean. I feel like I finally found a trades person that I trust!"

Jenn P. in Middleton, MA
---
Call for FREE Network Wiring Quote
---